| | |
| --- | --- |
| | Two mopeds recovered but thefts continue |
---
Dear Resident,
Over the weekend, Cambridge neighbourhood officers recovered two mopeds. One had been stolen just a few hours before and the other around a week ago.
Mopeds, scooters and motorcycles continue to be targeted by thieves as they are lightweight and can be wheeled away easily.
Thieves only need a few seconds to steal one, especially if they are left insecurely.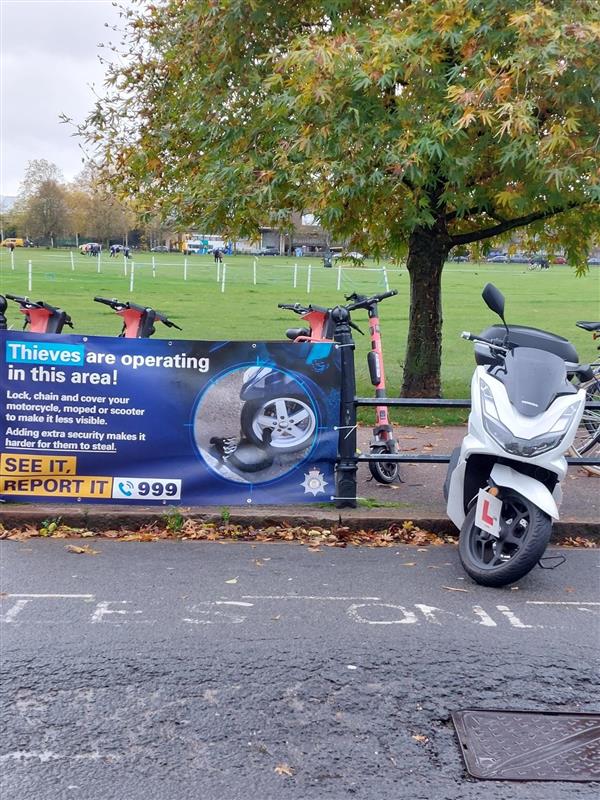 When leaving your bike, remember to think 'lock, chain and cover'.
Lock
Use a disc lock to help secure the front brake disc.
Chain
Use a chain lock through the back wheel and where possible secure your bike, with the lock, to an immovable object like a ground anchor or street furniture.
Cover
Thieves often 'shop' for particular models. Using a cover instantly makes it less attractive to them.
There are other measures you can take including fitting an alarm, marking parts of the bike to make them difficult for criminals to sell on, keeping your bike in a garage or shed or in a well-lit area with CCTV.
Further information and advice is available here.
Kind Regards
Sergeant Kevin Sutcliffe
Cambridge Neighbourhood Team
---
Reply to this message
---
---
Message Sent By
Tara Dundon
(Police, Senior Communications Officer, All )
---